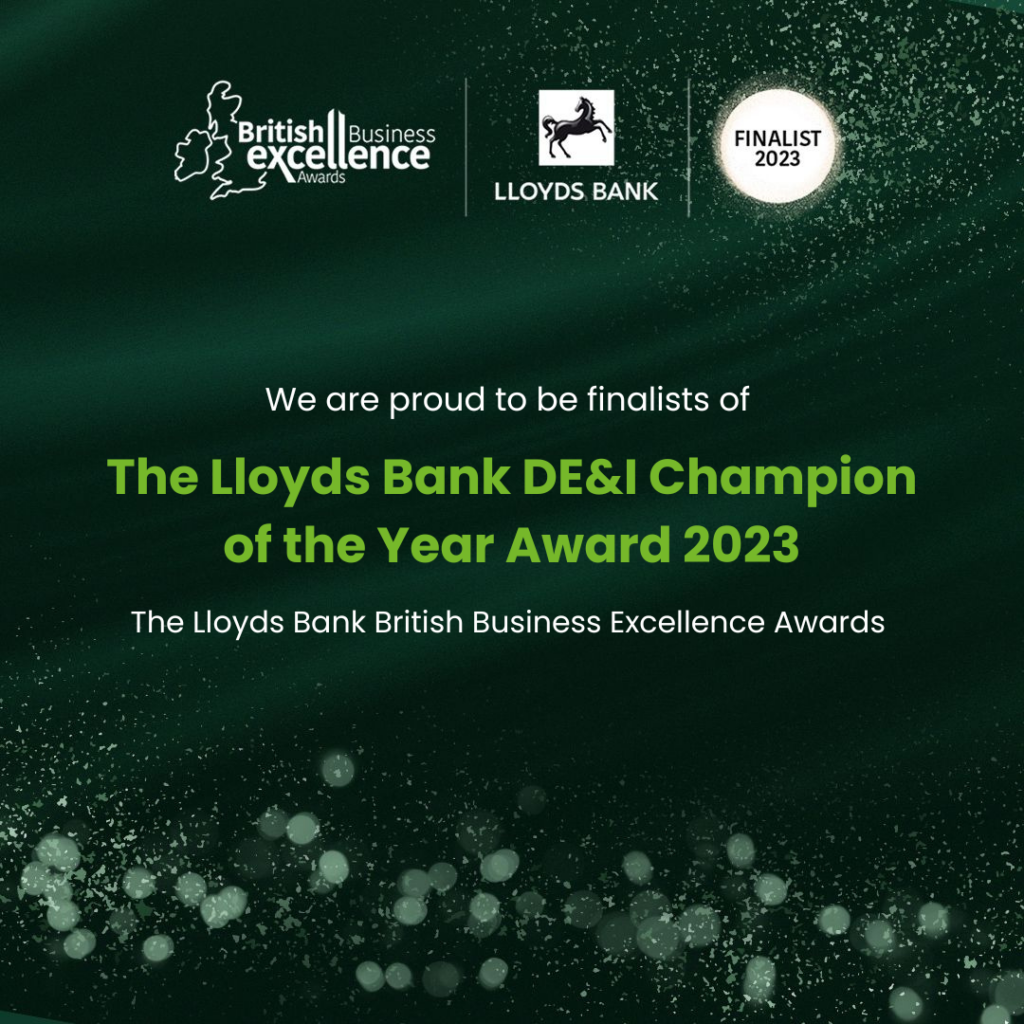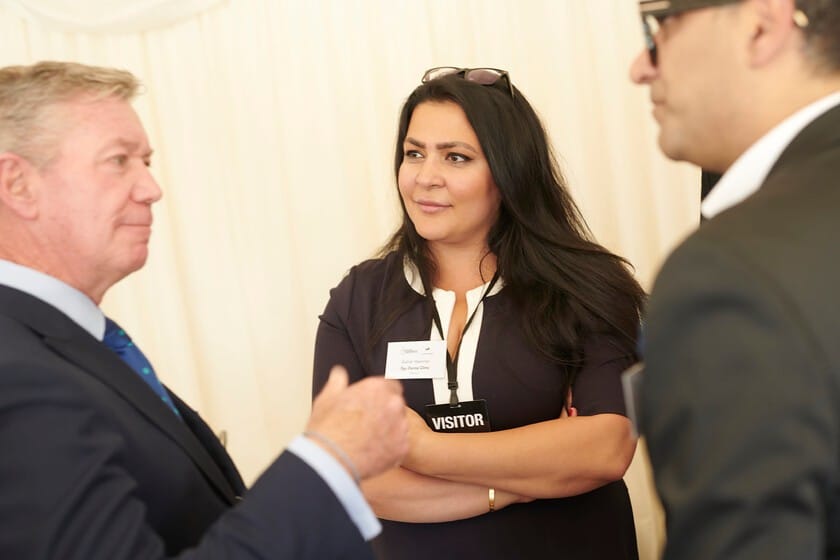 Press release August 2023
EGO Cosmetics is announced as finalist in The Lloyds Bank DE&I Champion of the Year Award category at the British Business Excellence Awards 2023
Team EGO is delighted to announce today a new award nomination, being shortlisted as a finalist in the DE&I Champion category of the premier British Business Excellence Awards 2023

The British Business Excellence Awards is the elite business awards programme for businesses of all shapes and sizes. The awards host a year-long programme of networking events, round tables and exemplary judging processes, all of which will then culminate in a spectacular awards ceremony on Tuesday 14th November 2023 at the Grosvenor House Hotel, London.
We are humbled and incredibly grateful to have been nominated for this prestigious award.
We would like to express our heartfelt delight to all who enabled us to achieve this goal and we hope to continue to have the highest level of dedication to our job.
Also, we would like to give a special thanks to Team EGO, Mr. Filip Wojdack EGO Cosmetics marketing director, and Mr. Chris Baker at Corona Head of PR.
Kind regards,
Directors of EGO Cosmetics
Dr. Golnar Hassirian And Dr. Charlie Attariani
British Business Excellence Awards note:
Sarah Austin, Founder & Director of the Lloyds Bank British Business Excellence Awards, commented on the announcement:
"As the UK's unrivalled celebration of business brilliance, resilience, and innovation – the Lloyds Bank British Business Excellence Awards takes centre stage – and this year is no exception. The anticipation is electrifying as we gear up for the grand event at the glamorous Grosvenor Hotel.
"Our excitement levels have hit the roof as we've witnessed a spectacular level of submissions across a wide range of dynamic industries – but with a real trend across the energy, recruitment, wellbeing, food & drink, and tech sectors, highlighting just how much the UK business landscape is thriving.
"Kudos to each and every finalist who has made the shortlist – your entries have truly left us in awe of your extraordinary talent and dedication, setting the bar high for what it means to be a champion in the business world. You've made us stand up and take notice, and we can't wait to celebrate your remarkable achievements."
Press release August 2022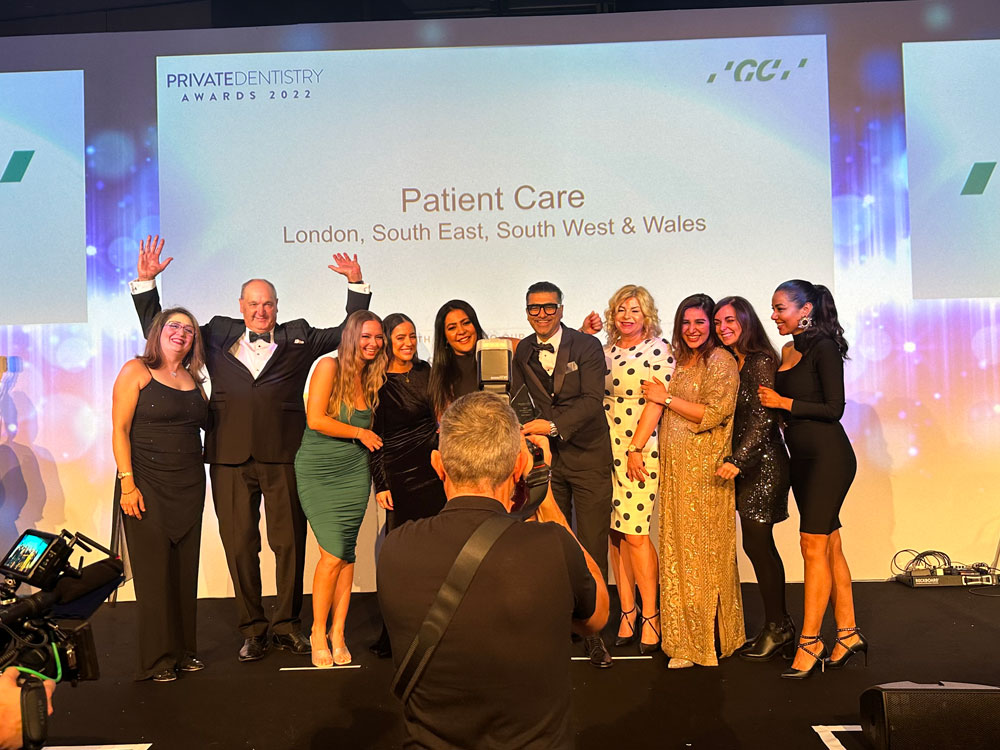 With a great honour EGO Dental Clinic would like to announce that we won 2 out of our nominations:
Best Patient Care and Team Of The Year 2022 Winner!
We are truly honoured to receive these prestigious awards at The Private Dentistry Awards 2022 – UK
We are all honoured and so grateful for having been awarded for something that we aim to achieve everyday in our jobs, which is to provide the "Best Patient Care with the Best Team!
In a medical profession these are the most important aspects of our job. You can never achieve to provide best PATIENT CARE without a great TEAM!
Thank you all for yours support!
Awards Timeline:
The Lloyds Bank DE&I Champion of the Year Award – British Business Excellence Awards 2023
Nomination (Aug. 2023)
UK Enterprise Awards 2023
Most Innovative Dental Clinic 2023 – Central London
Winner
The Private Dentistry Awards 2022
Winner of:
Best Patient Care
Best Team
FMC/PRIVATR DENTISTRY AWARDS:
This year we received the highest number of entries that have ever been recorded in the awards, which has made the shortlisting a very hard process. Therefore, it is a fantastic achievement to have been chosen as a finalist. /FMC October 2022 – Dentistry.co.uk
Dentistry Awards 2022
We have been nominated in the following categories:
Best Team (London)
Best Patient Care (London)
Practice of the Year (London)
UK Enterprise Awards winner 2022
Most Innovative Dental Clinic – Central London – SME
Dentistry Awards 2021
Dentistry Awards 2020
Practice of the Year National Winner
Practice of the Year South (UK) Winner
"An extremely worthy winner, EGO Dental Clinic has demonstrated how a clear vision and strategy is converted into a highly professional and successful practice with strong ethical values. Their community involvement is exceptional."
– 19th of June 2020 – The Probe Magazine
2020
Practice of the Year 2020 – UK – The Dental Awards 2020 (The Probe & Smile Magazine) (Winner)
Practice of the Year 2020 – Central London – Greater London Enterprise Awards – SME News. – (Winner)
Best Cosmetic Dentistry Clinic 2020 – Central London – Private Healthcare Awards – (GHP) (Winner)
Practice of the Year 2020 – South – The Dental Awards 2020 (The Probe & Smile Magazine) (Winner)
2019
Best Private Dental Clinic 2019 – Central London – Oral Health and Dentistry Awards GHP (Winner)
Best Team 2019 – UK – The Dentistry Awards (FINALIST)
Best Practice 2019 – UK – The Dentistry Awards (FINALIST)
Best Patient Care 2019 – UK – Private Dentistry Awards (FINALIST)
Practice of the Year 2019 – UK – Private Dentistry Awards (FINALIST)
2018
Best New Practice 2018 – UK – Private Dentistry Awards (Winner)
Best Private Clinic in Central London 2018 – London – Oral Health & Dentistry Awards 2018 (Winner)