Laser Gum Bleaching

Darkened Gums?
Gingival hyperpigmentation is a common aesthetic concern in those patients who have a "gummy smile" or excessive gingival display. This pigmentation often occurs in the gums as a result of an abnormal deposition of melanin, due to which the gums may appear black.
A dental laser is an effective and a safe means to the removal of hyperpigmentation from the gingiva. Studies show that healing is quick and straightforward and no repigmentation occurs.
Laser ablation has been recognised as the most effective, pleasant and reliable technique. It has the advantage of easy handling, short treatment time, haemostasis and a sterilising effect.
Treatment process.
The treatment is done under local anaesthetics.
A class IV diode laser is used to peel off/vaporize and remove a thin top layer of the epithelium (gum tissue), destroying the cells that produce melanin.
The treatment is pain free but you may expedience some discomfort.
For the vast majority of the patients, the healing time is fairly quick, with a manageable discomfort for a couple of days to a week.
During the healing time a new tissue is created which tends to be pink rather than brown.
Sometimes depending on the colour, area and depth of the dark patch, some patients do need touch up treatments soon after, and if this session is needed there won't be any extra charge.
How Long Does the Treatment Take?
The assessment and the treatment procedure takes approximate 20-45 minutes depending on the extend of colour and size of the dark patch.
How long does Laser Gum Depigmentation last for?
Gum depigmentation treatment can last up to 20 years or up to a lifetime but each patient is different and needs to be assessed individually.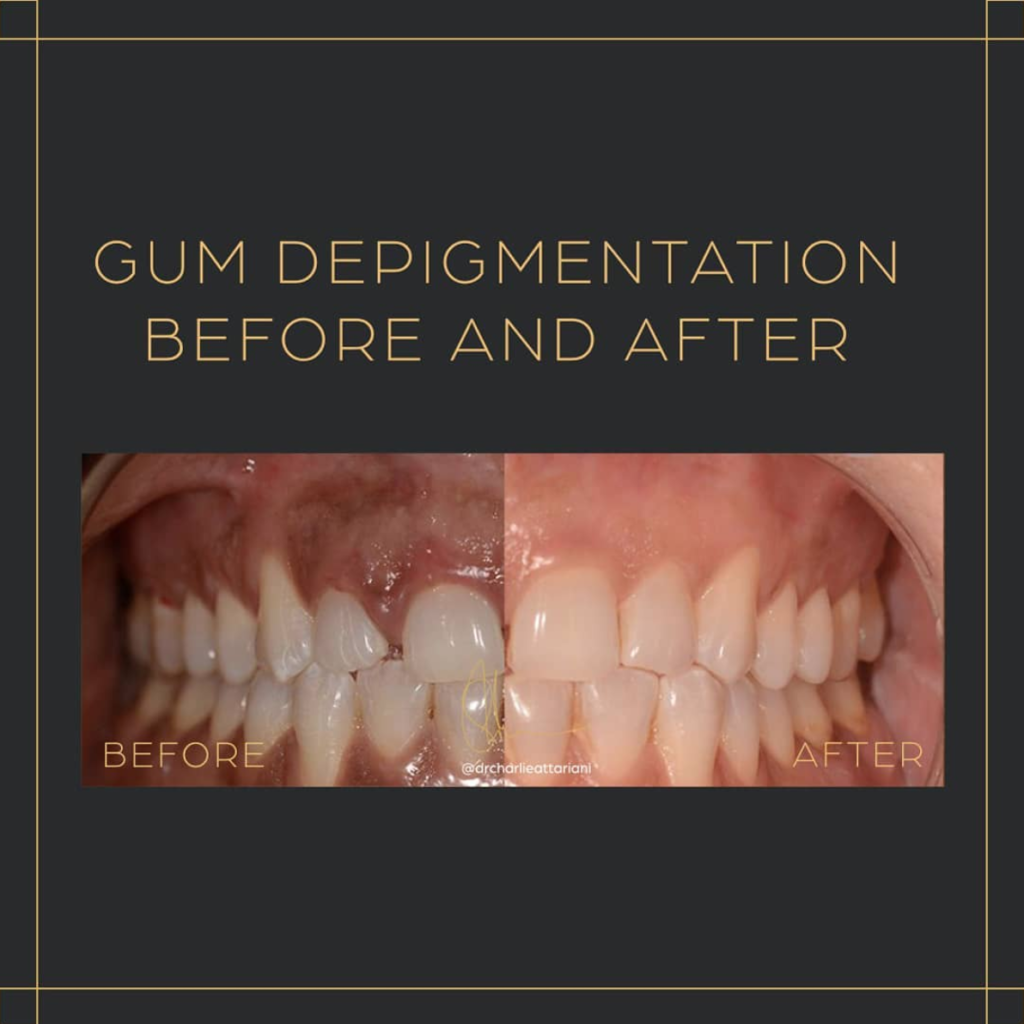 How is laser beneficial in dentistry?
There are a lot of benefits to the laser treatments we offer at our dental clinic and practice:
Versatile dental tools
Minimally invasive surgery device
Allows shorter treatment time
Allows you to heal faster
Reduces infection risks
Laser treatments are cutting edge and precise
Laser treatment can remove bacteria and symptoms more quickly and effectively then traditional treatments
It can control bleeding during surgery
Laser causes less loss of blood as compared to other dental therapies
Post treatment – most of the time pain less – discomfort
Is laser safe within dentistry?
Our clinic has professional Dental laser experts who are experienced in their fields and conduct laser treatments in accordance with accepted clinical practices and standards.
We use dental laser in our day to day dental treatments.
If you are not comfortable with the process or have any queries, please feel fee to discuss it with our laser experts and they will explain everything in detail until you are satisfied.
What laser we use?
We use UK made medical Diode laser by QLaze.
Specification:
Medium          GaAlAs Laser Diode Class IV

Wavelength    810 +- 10 nm (nanometres) also available in 980nm
Output Power 0.1-5 watts
Operation       Continuous wave or pulsed at 10, 20, 50Hz & adjustable up to 20000 Hz
Pulse Width    50ms, 30ms, 10ms & custom
Fibre Optic      FC 200-400um single file multi-mode
Aiming Beam  650 nm red Diode laser 2 mW max – adjustable
Sterilization     Handpiece (single use)
Input Power    AC: 100 to 240v, 1amp 47-63Hz DC: 5.1v 5ampLaser category MD1104 GMDN 60340
British Institute Of Laser Dentistry – BILD
EGO Dental Clinic is an active member of British institute of laser dentistry since 2014.
FREE Consultation
At EGO Dental practice, our experts are hugely experienced and conduct all laser treatments in accordance with the latest clinical practices and standards. If you would like to find out more, please feel free to discuss it with our laser experts and they will explain everything to you in detail. We now offering a FREE Consultation – Book you appointment today.