Our root canal dentist, Dr.Thomas Rhodes, has special interest in treating complex root canal pathology to stop a tooth infection from spreading and save a badly damaged or infected tooth.
Thomas Rhodes Lek. Dent. PG Dip Rest. dent PG Cert Endodontics (Chester)
Special interest in Endodontics
GDC number: 268956
What is Root Canal?
In this procedure, the damaged portion is removed and filled with an inert material to seal the tooth.
At the root canal consultation – our root canal specialist will assess the affected tooth for appropriate diagnosis. Once root canal treatment is justified we will tailor and make the treatment plan depending on the condition of the tooth.

A root canal treatment (endodontic treatment) is necessary when the pulp, the soft tissue in the tooth (root) is infected or inflamed.
The infection or inflammation can be caused by:
Deep decay (caries)
Repeated dental procedures
Crack or chip in the tooth
Trauma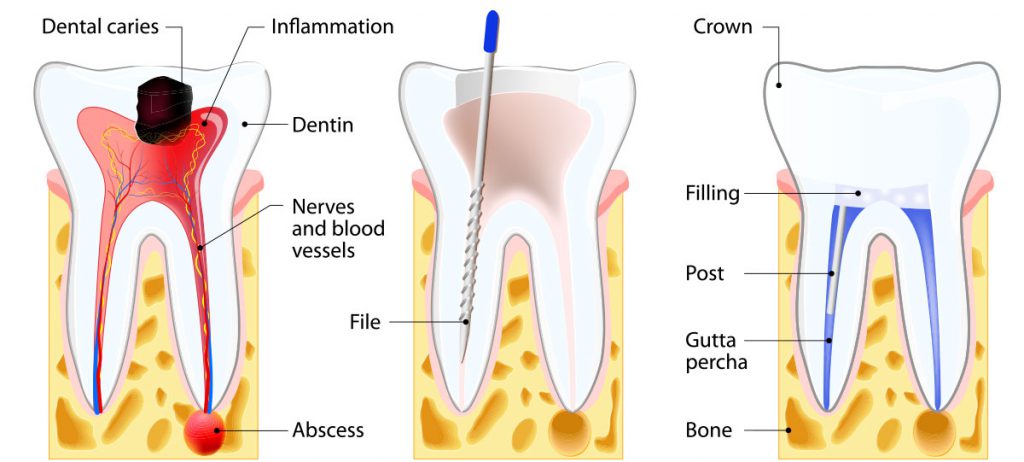 Although root canal therapy has a very high degree of success, results cannot be guaranteed.
What are the symptoms and why do I need a root canal
Dental pain is very difficult and can be very uncomfortable. It is better to seek immediate medical help and root canal dental treatment. The usual symptoms of root canal are:
Swelling or inflammation around tooth
Tooth discoloration
Mild to severe pain
What to expect during a root canal
Numbing the tooth with a local anaesthetic
Root canal treatment of your tooth normally involves more than one appointment as it is a skilled and time-consuming procedure .
During root canal treatment procedure a rubber sheet will be used to isolate the tooth.
An access opening is made through the crown of the tooth to the pulp chamber.
Special files are used to clean the infection and unhealthy pulp or old and infected root canal filling out of the canals. Then they shape the canals for the filling material. Irrigation is used to help clean the canals and remove debris.
A temporary filling is put in and the tooth is left to settle.
The tooth is checked at a later visit and when all the infection has cleared, the tooth is permanently filled.
Following treatment, the tooth may be brittle and subject to fracture. A crown and sometimes a post and core will be necessary to restore the tooth and the referring dentist will undertake these procedures for you following the completion of the root canal treatment. For a post and core your dentist may require that we do this for you.
Occasionally a tooth which has root canal therapy may require retreatment, surgery or even extraction.
Post treatment concerns
Tissue irritation, and inflammation may cause some discomfort for a couple of days or more. A subsequent review can screen tissue healing.
Root Canal Treatment (From)
Dr. Thomas Rhodes Lek. Dent. PG Dip Rest. dent PG Cert Endodontics (Chester) – Special interest in Endodontics – Specialist program at University
| | |
| --- | --- |
| Consultation (Comes off the treatment price) | £95 |
| Root Canal Treatment – Incisors & Canines (from) | £645 |
| Root Canal Treatment – Premolars (from) | £745 |
| Root Canal Treatment – Molars (from) | £845 |
| Root Canal Treatment – Incisors & Canines (from) | £185 |
| Core build up/ Post & Core (from) | £345 |
| Investigation | £395 |
---
Risk and intricacies
Root canal dental treatment are mostly successfully but not 100% success-rate! Once in a while, a root canal treatment will flop altogether, distinguish by an arrival of the pain. In few cases, an Apicectomy or re-root canal treatment may take care of the issue.
How is it done
This surgery is done in 2 stages:
Your dentist will numb the area using an anaesthetic and then clean the damaged or infected pulp. Once cleaned, the dentist will shape the inside of the tooth and use medicated dressing and seal the tooth. Dentist may create a temporary crown or cap for your tooth. After the initial process, your dentist will guide you on post surgical care. This usually alleviates any pain from the tooth. (In very rare cased you may antibiotic to help heal the infection.)
On the second visit your dentist will remove the temporary filling and will continue with the root canal treatment – on this visit the tooth canal is cleaned, disinfected, shaped, measured and filled to prevent any further infection.
We almost always advise to a inlay, onlay, overlay or a crown to achieve higher success-rate.
For more information please ask your dentist for more detailed explanation.
Pulpotomy for Children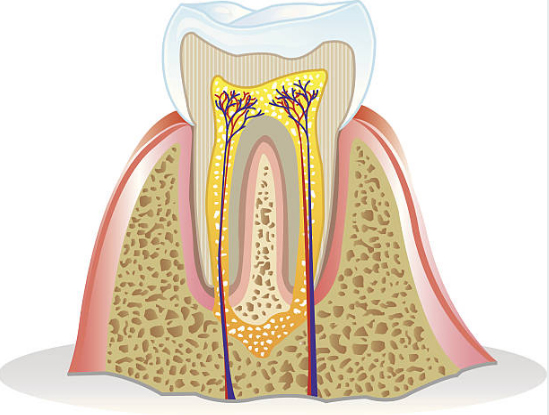 This is similar to that of adults but in this case an infected or damaged pulp is removed from a child's tooth as a result of cavities and decay.
This is important and should be done immediately to clean the bacteria as it might spread inside the tooth and cause severe infection infecting other teeth too.
A bacterial decay and damage can cause severe toothache in children, as a result of a large cavity.
For more information about the treatments please contact us: [email protected]
---
Before/After Gallery