Tight Tongue / lip Frenulum
The frenulum is a small fold of tissue that prevents an organ in the body from moving too much. It is there to limit movements. However, in some cases, the frenulum is too short (tight) and restricts / prevents the movements tongue or the lip. This restriction can of movements can make some difficulty with regular tasks like eating, talking or hurts proper development in children. Sometimes these restriction can leading to aesthetic problems.
What is Laser Frenectomy
Laser frenectomy is the removal of a frenulum with laser, a small fold of tissue that prevents an organ in the body from moving too far. It can refer to frenula in several places on the human body. It is related to frenuloplasty, a surgical alteration in a frenulum.
Types of Frenectomy
There are three main types of dental frenectomy:
Labial Frenectomy (upper lip): A labial frenectomy involves the frenum attaching the upper lip to the upper jaw. If the labial frenum is too short or tight, there are a few potential issues. For one, the ligament tissue can extend toward the two upper front teeth and lead to a diastema, or gap in the teeth. It can also create an "open mouth posture," by limiting the movement of the lip and preventing the mouth from properly sealing. This leads to open mouth breathing, which in children impairs the development of nose breathing and by extension proper airway and jaw development. It can also cause gum recession.

Lingual Frenectomy: The lingual frenum is the tight cord underneath the tongue that tethers the tongue in its resting position. If it's too tight or short, it will restrain the tongue too low in the mouth. This is commonly referred to as being "tongue-tied." In young children, this can hinder the growth of the jaw and cause long-term orthodontic problems and sometimes even sleep apnoea. It can also keep the tongue from pressing properly against the upper palate during swallowing – pressing it instead between the teeth and preventing the bite from closing all the way over time. Being tongue-tied is a common culprit for lisping too.

Labial Frenectomy (lower lip): The lower lip frenectomy is done for similar reasons as the upper lip – generally to stop periodontal problems and gum recession. It is also performed on those adults who are being fitted for dentures. When the lips move, the frenum can pull the dentures loose, leading to an improper fit.
Please notice: If you are concern about your speech, lisping or pronunciation of any letters, we always advised you to see a specialist prior to the treatment – Please be aware that we are not speech or language therapist/specialist. (we accepts referrals)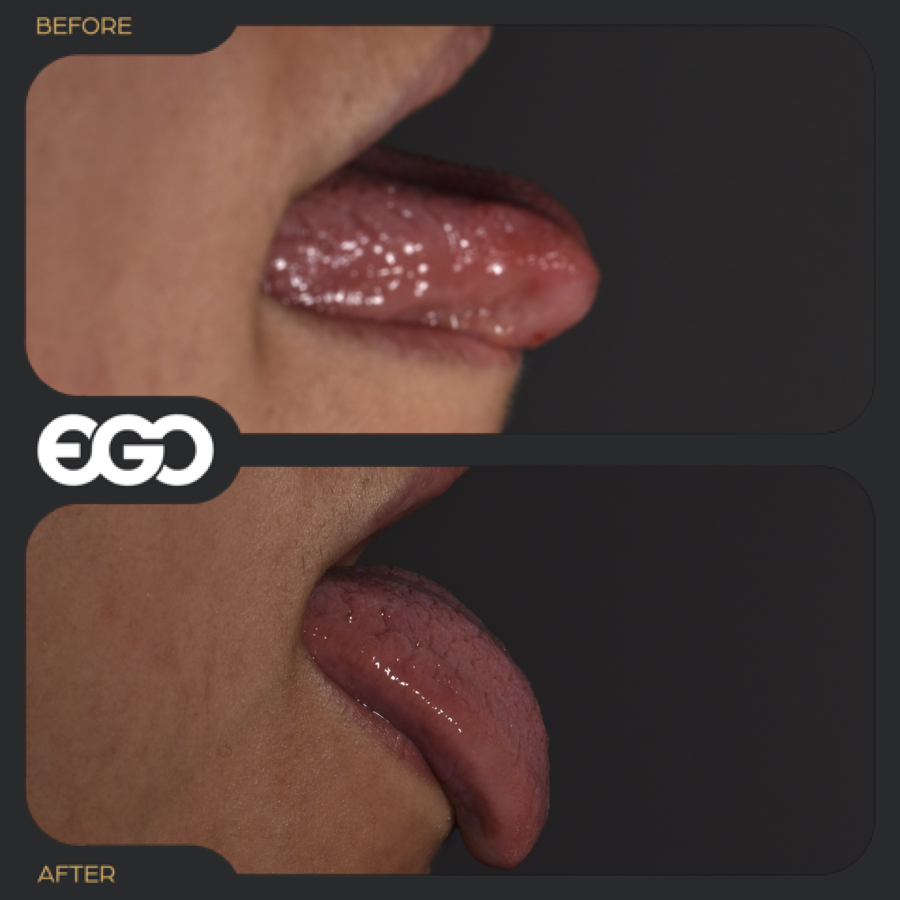 Dental Laser – Q & A
What is a dental laser and how does it work?
A dental laser is an instrument that produces a very narrow, intense beam of light energy. When laser light comes in contact with tissue, it causes a reaction. The beam of light produced by the laser has the ability to remove, vaporise, or shape soft tissues (gums, cheeks and tongue) or hard tissues (removal of decay).
Will it hurt?
Laser dentistry is wonderful because in many cases it will actually decrease any pain of a procedure and also reduce the need for you to require anaesthesia – no needles or injections. While no treatment is always painless, the laser may reduce the need for postoperative pain medication and may reduce swelling and bleeding.
Is it safe?
Lasers have been used in dentistry since the 1990s. The U.S. Food and Drug Administration has determined that lasers provide safe and effective treatment for a wide range of applications and as long as it is used by experts like at EGO Dental, it is at least as safe as other dental instruments.
Are any precautions necessary?
Yes. You will be asked to wear special eyeglasses to protect your eyes from the laser light beam.
What about bleeding?
Use of a laser means that there is less blood during soft tissue procedures than there would be with more traditional treatments.
How is laser beneficial in dentistry?
There are a lot of benefits to the laser treatments we offer at our dental clinic and practice:
Versatile dental tools
Minimally invasive surgery device
Allows shorter treatment time
Allows you to heal faster
Reduces infection risks
Laser treatments are cutting edge and precise
Laser treatment can remove bacteria and symptoms more quickly and effectively then traditional treatments
It can control bleeding during surgery
Laser causes less loss of blood as compared to other dental therapies
Post treatment – most of the time pain less – discomfort
Is laser safe within dentistry?
Our clinic has professional Dental laser experts who are experienced in their fields and conduct laser treatments in accordance with accepted clinical practices and standards.
We use dental laser in our day to day dental treatments.
If you are not comfortable with the process or have any queries, please feel fee to discuss it with our laser experts and they will explain everything in detail until you are satisfied
What laser we use?
We use UK made medical Diode laser by QLaze.
Specification:
Medium GaAlAs Laser Diode Class IV

Wavelength 810 +- 10 nm (nanometres) also available in 980nm
Output Power 0.1-5 watts
Operation Continuous wave or pulsed at 10, 20, 50Hz & adjustable up to 20000 Hz
Pulse Width 50ms, 30ms, 10ms & custom
Fibre Optic FC 200-400um single file multi-mode
Aiming Beam 650 nm red Diode laser 2 mW max – adjustable
Sterilization Handpiece (single use)
Input Power AC: 100 to 240v, 1amp 47-63Hz DC: 5.1v 5ampLaser category MD1104 GMDN 60340
British Institute Of Laser Dentistry – BILD
We are an active member of British institute of laser dentistry since 2014
FREE Consultation
At EGO Dental practice, our experts are hugely experienced and conduct all laser treatments in accordance with the latest clinical practices and standards. If you would like to find out more, please feel free to discuss it with our laser experts and they will explain everything to you in detail. We now offering a FREE Consultation – Book you appointment today.